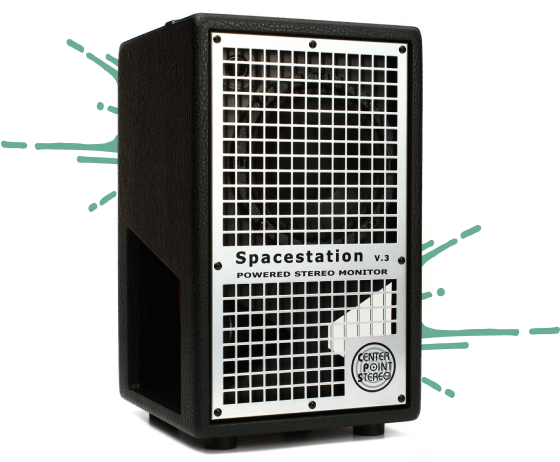 The Spacestation is the only system on the market that gives you True 3D Sound from a single cabinet.
Small yet very powerful, the Spacestation V3 is the best option for an individual or entire band looking for the best sound quality and a true stereo image that cuts through, even at lower volumes.
Spacestation V3
Total Power: 280W
The Center Point Stereo magic works by electronically encoding the stereo Left and Right signals to be Mid (L+R) and Side (L-R) signals, then decoding them acoustically via the unique Front and Side dipole-powered speaker array. Center Point Stereo creates a magical True 3D Sound field that never collapses as with all conventional stereo speaker arrays. The 'sweet spot' is EVERYWHERE – even traveling around corners and into adjacent rooms!
The Spacestation v3's front speaker is a custom-made 8″ co-ax speaker (by Eminence USA), a 1″ compression driver (by Eminence USA) and a super-tweeter tri-amped with independent level adjustment for the mids and highs via our Speaker Contour controls. The side speaker is a 6.5″ full range speaker positioned 90 degrees off-axis.
Width Control allows for optimizing the stereo effect to compensate for room acoustics (e.g. use more width for a dead room or outdoors and less width for live or highly reflective rooms). Included is a sub woofer/full line level output, useful for connecting a sub woofer or going to Front Of House which is useful for larger venues.
● 300 degree True 3D Sound™ field
● Total Power: 280W RMS
● Loudness: 106dB max SPL (@300 degrees)
● Front speakers: 8″ LF + 1″ Mid coax NEO HF Tweeter
● Side speaker: 6.5" full range dual direction'
● 100W RMS to front: 8″ woofer
● 100W RMS to 6.5″ side speaker
● 40W RMS to 1″ midrange driver
● 40W RMS to super tweeter
● .009% typical, 0.1% maximum THD
● 100 VAC to 240 VAC @ 2.5A (auto ranging)
● Frequency range: 100Hz – 20kHz usable
● Stereo inputs: 2 x 1/4″ TS (-10dB to +4dB)
● Outputs: 1/4″ TS +4dB mono for Sub, FOH, or powered monitor
● Dimensions: 18″ x 11″ x 11″ @ 31.5 lbs (14.3 Kg)
True 3D Sound™ from a stereo signal providing big sound in a
convenient package
Patented CPS technology with true 3D 300 degree dispersion
Master Level control
True 3D Width control, allows tailoring your 3D sound for the venue acoustics
3-way tri-amp front speaker system low distortion and efficiency
EMINENCE USA Acoustinator CX2008 8″ co-ax woofer
EMINENCE USA APT-50 1″ compression mid driver
Neodymium super tweeter
4 Individual speaker contour controls for fine-tuning your sound
Mono full range +4dB line out for FOH send, additional powered
monitors or Sub to enhance performance for bass-deficient venues
Compact and lightweight for easy transport and setup
Strong and light all plywood construction with Metal speaker grill
Dual format design: Carry or use vertically or horizontally
Includes cover