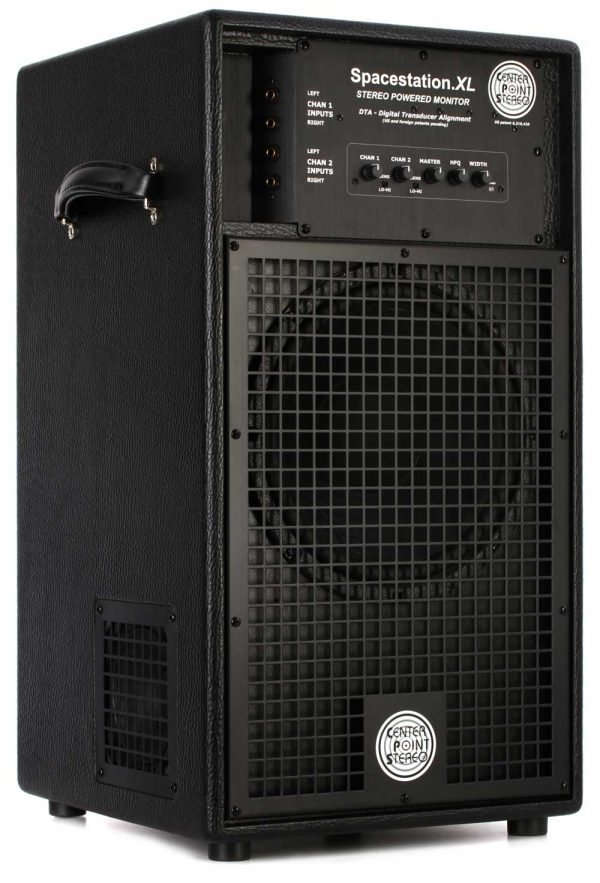 With its 700 watts, the Spacestation XL is the most powerful all-in-one stereo cabinet.
You need full firepower and you want your whole band to share it, the Spacestation XL is your weapon of choice. You can plug in your whole band by using its multi-inputs or via a mixer. Forget about taking out your old and bulky PA system, the XL features everything you need and delivers a full 700 watts of TRUE 3D SOUND to the benefit of the audience, you and your band.
Spacestation XL
Total Power: 700W
With its USA-made 12" Eminence woofer arranged in a 90-degree angle with a pair of 6.5" Eminence drivers and a 1" Titanium mid tweeter, the Spacestation XL creates unmatched True 3D SoundTM unlike anything you've ever experienced. As you know, stereo image can hardly be achieved in a live environment. With the Spacestation XL, everyone in the venue will experience True 3D Sound.
Even the architecture of the SXL's front panel inputs is revolutionary with our patented 'offset inputs' that both protect and redirect the cables to the side and away from harm.
The Spacestation's solid-state technology offers a clean and clear distortion-free signal, making it the very best platform for keyboard players, guitarists, singer songwriters and really anyone. All you need is a stereo source!
300 degree True 3D sound field
Total Power: 700W RMS
Loudness: 116dB max SPL (@300 degrees)
Front speaker: 12″ LF coax + 1″ Titanium HF driver
Side speaker: 2x 6.5" full range dual direction
250 RMS to 12" co-ax Woofer .009% typical, 0.1% maximum THD
250 RMS to 1 co-ax HF Driver .009% typical, 0.1% maximum THD
250 RMS to 6.5" side speakers .009% typical, 0.1% maximum THD100 VAC to 240 VAC @ 5A-T (auto ranging)
Frequency response: 50Hz – 20kHz
Stereo Inputs: 2 channels w/ Left and Right balanced 1/4″ TRS
Selectable sensitivity switch per channel: Hi (-10dB), Lo (+4dB)
Stereo Outputs: +4dB Left and Right balanced 1/4″ TRS or XLR
Mono Output: balanced 1/4″ TRS or XLR Sub, FOH or powered monitor
Dimensions: 29″ x 17″ x 16″ @ 65 lbs (29 Kg)
True 3D sound from a stereo signal providing big sound in a convenient powerful 700 watt package
Patented CPS technology with true 3D 300 degree dispersion
Patented DTA (Digital Transducer Alignment for enhanced Side speaker efficiency
Two balanced stereo channels with separate controls
Channel Controls include Level and dual sensitivity switching for instruments (-10dB) or mixers (+4dB) Master Level controls
3 stage LED clip light (Blue-Yellow-Red) on both input signal and power amp output, Red indicated -3dB from clipping
Master Level controls: Level, HF Level, and Width Level lets you tailor your 3D sound for the venue acoustics
Patented "OFFSET INPUTS" protect and redirect cables
EMINENCE USA custom 12″ Coax with ADA-100i Titanium tweeter
Strong and light all plywood construction with Metal speaker grill
Dual format design: Carry or use vertically or horizontally
Includes cover